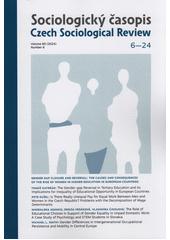 Why Czech parliamentary party groups vote less unitedly : the role of frequent voting and big majorities in passing bills /
Autoři vysvětlují jednotu členů Poslanecké směnovny Parlamentu České republiky při hlasování. Přibližují základní terminologii a teoretický rámec používaný v literatuře pojednávající o chování politických stran zastoupených v parlamentu a základní pravidla, ze kterých plyne jednota politických stran...
Saved in:
Bibliographic Details
Main Authors:
,
Format:

Article

Language:
English
Subjects:
Source:
Sociologický časopis
0038-0288
Vol. 41, no. 3 (2005), s. 423-442
There are no holdings available in the MUNI libraries.