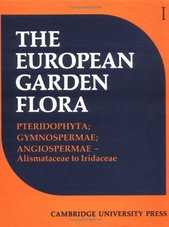 The European garden flora : a manual for the identification of plants cultivated in Europe, both out-of-doors and under glass. Vol. I, Pteridophyta, gymnospermae, angiospermae - monocotyledons. Part I /
Saved in:
Bibliographic Details
Other Authors:
Format:

Book

Language:
English
Published:

Cambridge :

Cambridge University Press,

1986.



Edition:

1st pub.
Description
Status
Library
Collection
Call Number
Notes
Barcode

Available




Mimo UK



Campus Library
Dpt of Botany and Zoology (BOGEO)
F-23-13/I.
3145302793